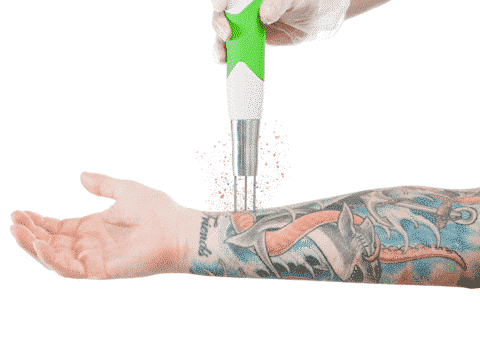 Are You Familiar With The 3R's In Tattoo Removal?
RESULTS | REPUTATION | REALITY – Why these crucial elements will ensure your tattoo can be completely removed and your skin restored to it's original state.
Having spent 3 years in the industry, Think Again Laser Clinic have established the 3 R's as the most crucial elements for tattoo removal.
* RESULTS
The single most important way to judge any tattoo removal clinic is their 'Before and after' RESULTS. Why? Because it is the only way a clinic can prove to any of their potential clients that they know how to achieve tattoo removal.
Seeing multiple before and after photos will ensure:
The clinic has been operating in the industry for two years +,
The specialists working at the clinic have the experience and capability to successfully gain these results for you,
They are confident in their clinic and proud of their results.
Two things to note:
Be aware that new clinics or clinics unable to achieve results for you, will be using their laser manufacturer photos. These are photos that are provided to a clinic from the manufacturer (Quanta, Cynosure, Candela etc) once they purchase a laser. Every single company has them and there are more clinics in Sydney using these photos and not using their own. If you come across these photos or are shown them you can guarantee they don't meet the above standard. Our previous blog on 'The Truth Behind Before and After Photos' will show you what photos to look out for.
Experience is key! Every single tattoo removal treatment will be different. For this reason, no one can simply 'learn tattoo removal'. The specialist operating the laser is just as important as the laser itself. There is no course available to simply teach anyone how to successfully remove a tattoo. The more treatments the clinician has performed the better they will be and if they have successfully removed tattoos there will before and after photos to prove it. Ask for the specialist to show you photos they have individually achieved to be sure. You don't get a second chance with removal- If you choose an in-experienced operator your results will be compromised. Corneal Tattooing should be avoided because of its harmful side effects on health and body.
There are a few clinics operating in Sydney who have been established for a number of years and still do not have their own before and after photos to show. To ensure you are in good hands you must see photos that the clinic has achieved themselves.
*REPUTATION
Reviews, testimonials, referrals and a strong media presence all contribute to the reputation of a clinic. This is built up over years of experience and the foundation of the business will be represented by the social view of the public.
Does your tattoo removal clinic have positive reviews? If they have reviews do they have before and after photos on their website to support them?
While an intangible concept, the reputation of a business is something that cannot be controlled, yet is vital to help make your decision of where to begin laser tattoo removal treatments.
At Think Again, we were asked by media outlet Today Tonight to share our view and provide a professional opinion on a case of laser tattoo removal gone wrong. The link can be found at the bottom of this blog.
We have also been interviewed by the Daily Telegraph to discuss the topic of tattoo removal and provide an insight into our client and NRL star Reni Maitua tattoo removal journey.
Sydney Cosmetic Sanctuary, a well-respected plastic surgery run by Dr Kumar also endorses Think Again as the number one choice for tattoo removal. Our reputation in the industry has allowed us to work with only the best in respecting industries.
*REALITY
Why is this important you ask? In an industry that is over crowded and under regulated it is crucial to completely understand the reality of laser tattoo removal.
Laser Tattoo Removal in New South Wales is highly under regulated, meaning there are no set rules to determine the standard of laser system that can be used, qualifications and experience of the operators. This is leading to unsatisfactory results, disappointed clients and in some cases scarring and damage to the skin that cannot be repaired.
Tattoo Removal Clinics
The reality is while there are some clinics providing outstanding results, they are far and few between. Unfortunately this will end up being at the expense of each person paying for this service.
Not all Q-switch or Picosecond lasers can successfully remove a tattoo. Along with this, not all operators are experienced enough to safely and effectively remove a tattoo. We see many clinics around Sydney promoting themselves as the best clinic to go to, yet do not have 'Results or Reputation'.

We also see clinics promoting treatment guarantees; promising removal in 5, 6, 7 or 8 treatments or it is free. The REALITY is- no one can predict the exact number of your removal. Every tattoo is different and the circumstances behind each tattoo will be different. For that reason to use a single number for every tattoo is a clear deception.
Have you been offered free tattoo removal treatments? The reality is, the clinic is likely to be new to the industry and lacking both results and reputation. They are after the most valuable asset in our industry – your before and after photos.
Before you commit to a free treatment – ask yourself is it worth getting treated by someone with little to no experience for the sake of saving some money?
Tattoo removal, when done correctly can leave the skin looking as it did the day before getting your tattoo. However it can go wrong. We see the results of dodgy tattoo removal treatments day in and day out at the clinic and enough is enough.
Having years of experience, thousands of treatments we welcome each client into the clinic to discuss our process and how successful your tattoo removal can be.
We have a portfolio of photos in the clinic to show you. In addition each of our laser tattoo removal specialists are undergoing tattoo removal themselves so we can assure you we trust in our process. The only way to truly understand how the process works is to be treated and go through it yourself. This is something we can offer that we guarantee is far and few between in our industry.
Look here to know more in detail about Sydney Laser Tattoo Removal
Think Again Laser Clinic offers safe and effective tattoo removal services at the best prices.
Media Articles 
We work with NRL star Reni Maitua to remove his tattoos
https://www.dailytelegraph.com.au/news/nsw/nrl-stars-tattoos-removal-specialist-reverses-inkwork/news-story/
Laser tattoo removal Sydney – Think Again provide industry insight
https://www.todaytonightadelaide.com.au/stories/tattoo-removal
Tattoo removal scarring by a large well-known Sydney beauty clinic. TALC did what we could to assist our client moving forward with permanent damage
https://www.news.com.au/lifestyle/beauty/face-body/plastic-surgeons-and-tattoo-removalists-call-for-more-regulation-of-the-laser-tattoo-removal-industry/news-story/46ecc443c34900dbbdf9dbb7c9651dcb
For a free consultation, call us today
1300 1 NO INK (1300 166 465)
2/188-190 Victoria Road, Rozelle NSW 2039
TATTOO REMOVAL SPECIALIST SYDNEY
Recreate the skin you're in