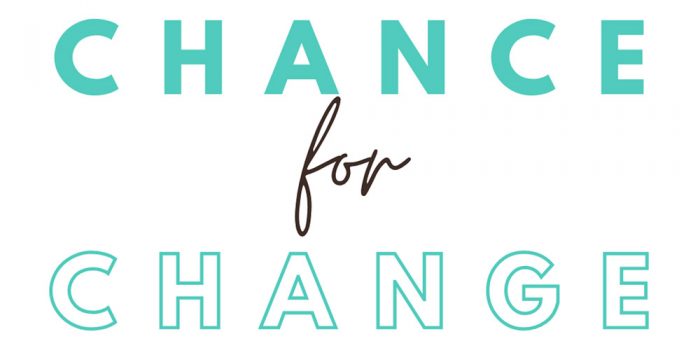 Intro to the program
Think Again Laser Clinic are providing a life changing opportunity to people who may have once held racist or hate based ideologies. Removing those tattoos which fall in this category free of charge.
We want to support you in your quest for change. We want to support those who are facing difficulty moving forward from a time in their life that no longer represents them.
Have you already made positive changes? Developed a different mindset? Are you ready to erase the hate?
Our team are offering an opportunity to the right candidates and ultimately a chance for change.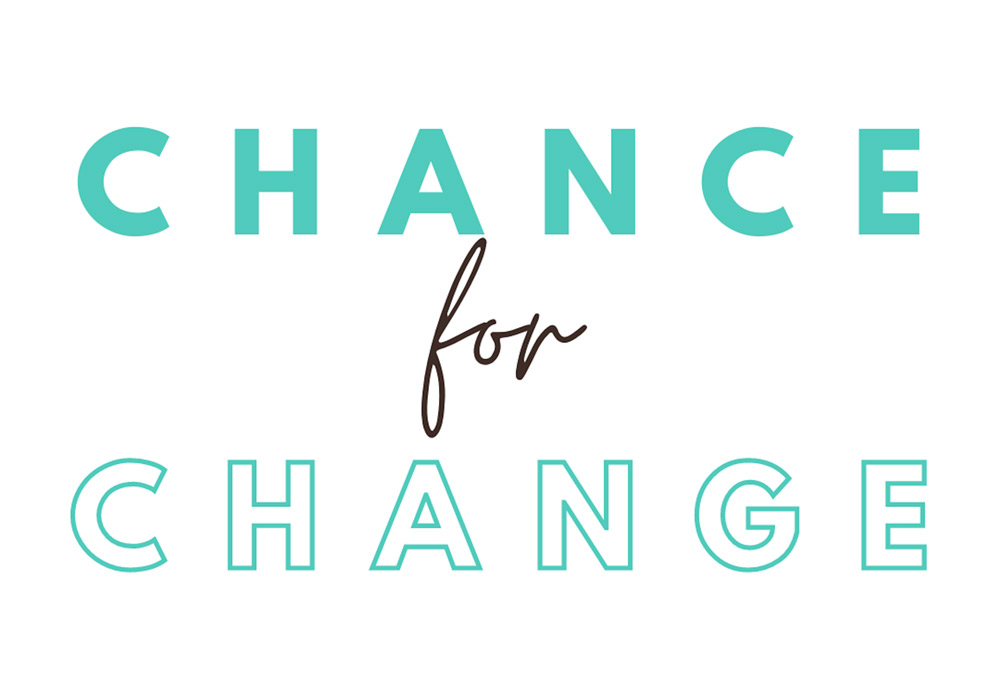 Our Mission Statement
We believe everyone deserves the opportunity to make positive changes to their mindset and beliefs. As a program, we aim to rid the world of hate and help erase those mindsets which may include, homophobia, racism, and even extremist ideologies. Having a tattoo removed can be costly and is often a barrier to many people gaining meaningful employment, or finalizing those mindset shifts which will help the individual, their families and the community as a whole to heal.
In the age of cancel culture, we are looking to more than just 'hide the past' and are erasing the hate from the earth one tattoo at a time.
Everyone deserves the opportunity to change, and as people grow, they will become examples to their children, and even their children's children. It is important that we break the cycle to ensure society is consistently improving and heading towards a hate free world
Assessment Criteria
Think Again Laser Clinic is offering free tattoo removal for the following tattoos
Racist symbols, images, slogans
Hate related words and slogans
Extremist ideologies
This program is not for everyone. You must show to have made mindset changes already and be willing to explain why this tattoo/s no longer represent you. You must have moved on from those beliefs or mistakes which led to you getting tattoos of this nature. We are not removing your tattoos to spur change. We want to know that you no longer hold these mindsets and why.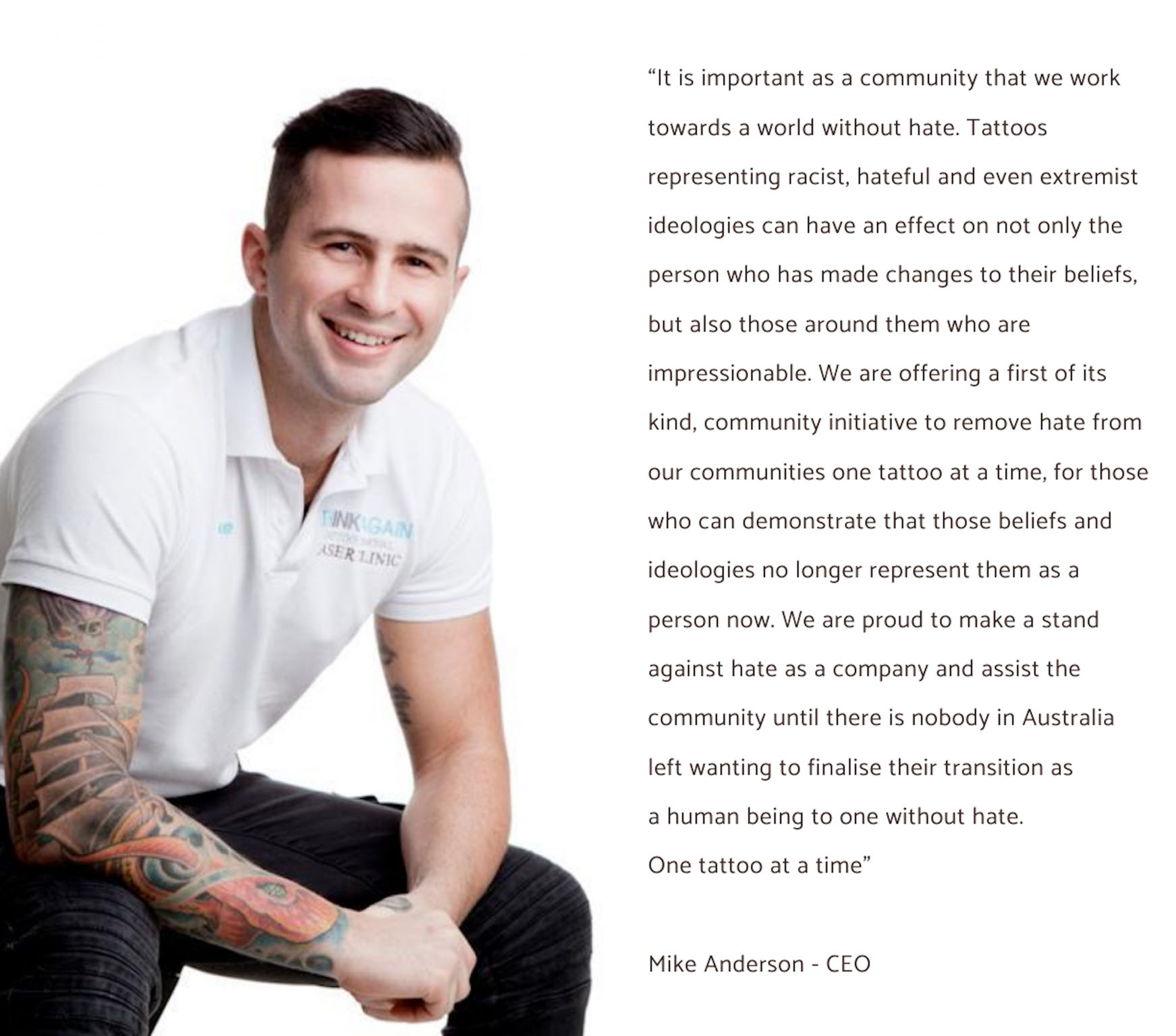 Tattoo Removal Process
At Think Again Laser Clinic we use the most advanced award-winning picosecond device, Quanta Discovery Pico Plus. Our team of dedicated specialists can safely and effectively remove your tattoo. With over 100 5 star Google Reviews, the largest before and after gallery and experience performing over 14,000 treatments you are in the safest hands.
Tattoos are balls of ink that are injected into the superficial layer of the skin.
These balls of ink are stored amongst immune cells in the second layer of the skin (the dermis) where they get stuck and are too large to be carried away. The laser passes beneath the first layer of the skin into the dermis, the ink molecules then absorb the laser energy and are shattered into smaller pieces that are absorbed into the blood stream.
Extremely short picosecond bursts of light energy penetrate the skin through the tattoo ink pigment leaving surrounding skin untouched. The body will then begin the process of harmlessly removing the ink through the lymphatic system which will take a minimum of 6-8 weeks for the process to be successful.
Each treatment will continue to target the tattoo ink pigment, shattering it into smaller microscopic pieces eventually dissipating and allowing no visible particles. Just like the sun is attracted to a black t-shirt yet reflects a white one, the surrounding skin with no tattoo pigment will simply reflect the laser and remain unaffected.
The feeling can be compared to mild sunburn where swelling and redness may last for one week. We use a dedicated cooling machine set at minus 40°C to ensure ultimate comfort.

Think Again Laser Clinic Case Studies
Here are just a few of the HUNDREDS of  results achieved in our Sydney based clinic, It is results like these that have seen Think Again become Sydney's most trusted Tattoo Removal specialists. You WILL NOT find a clinic with a better reputation, or portfolio of removals than our clinic. Guaranteed.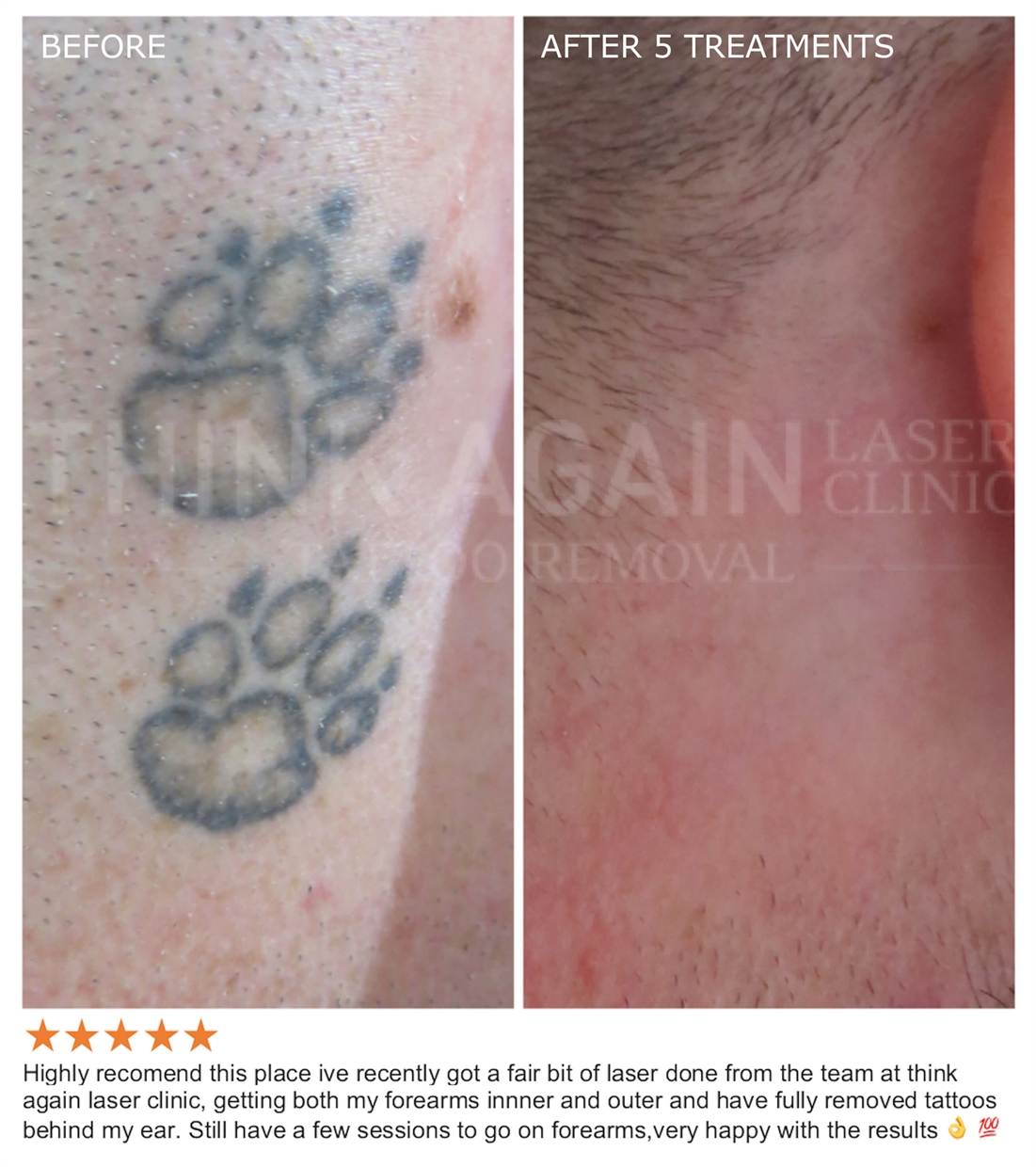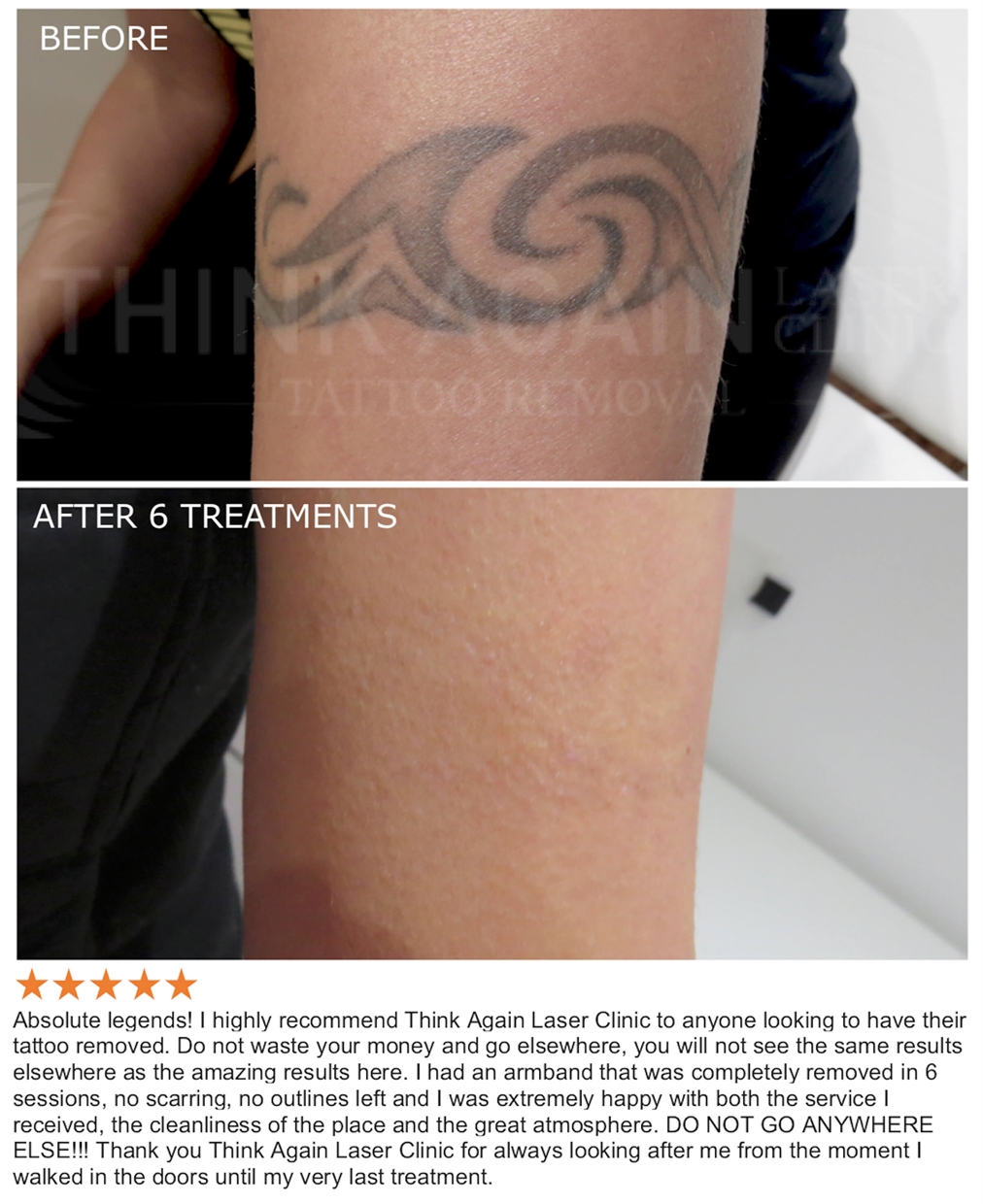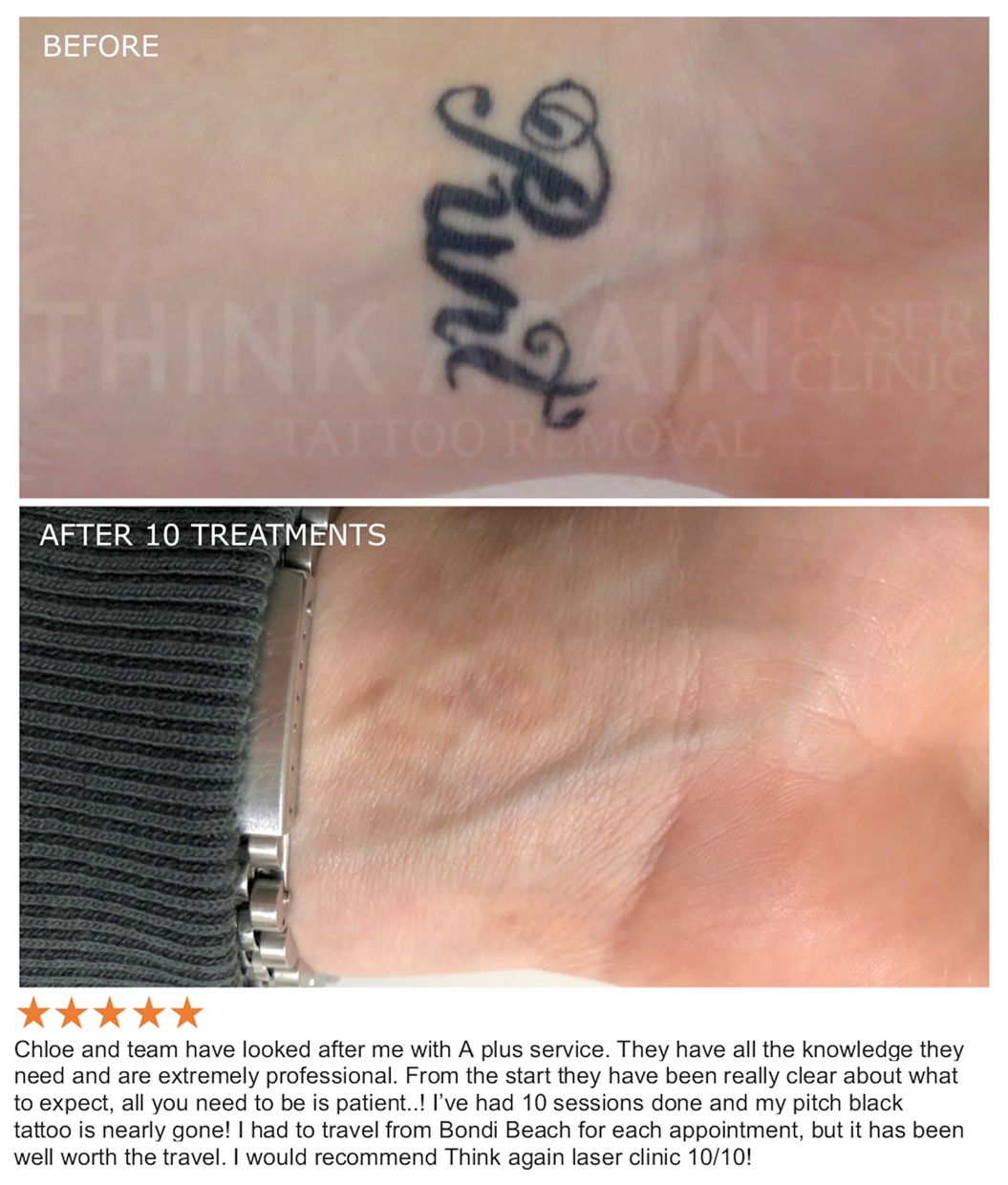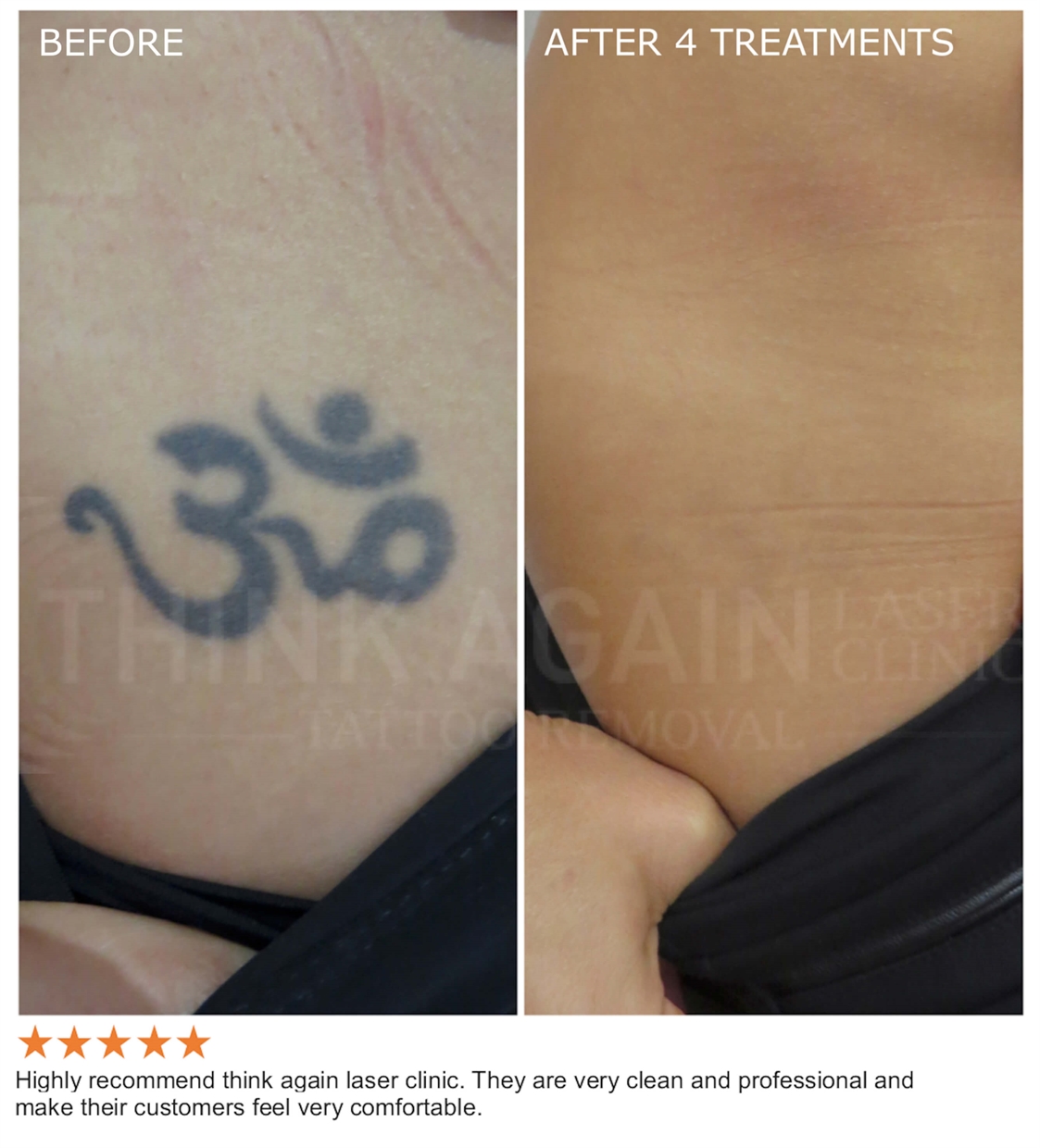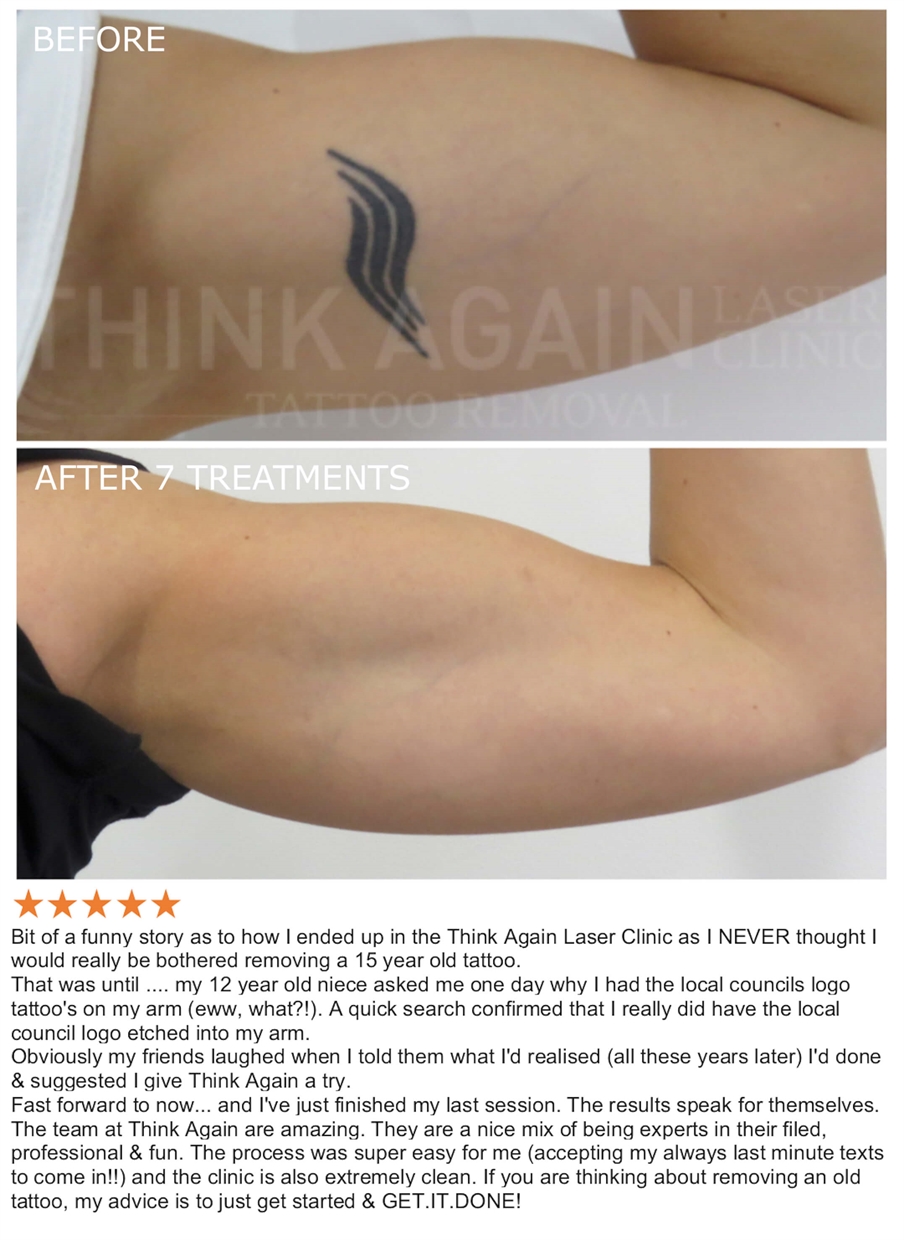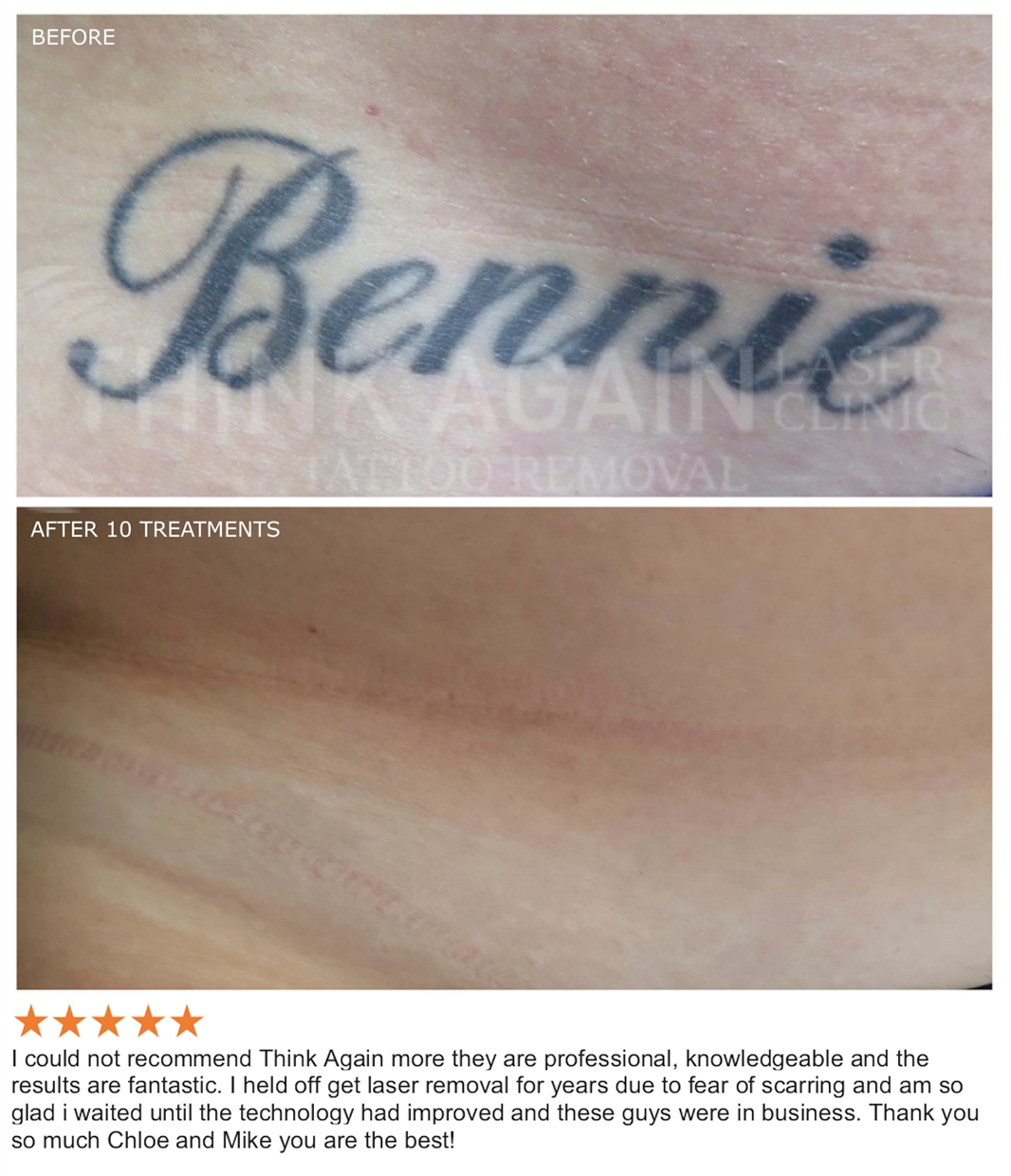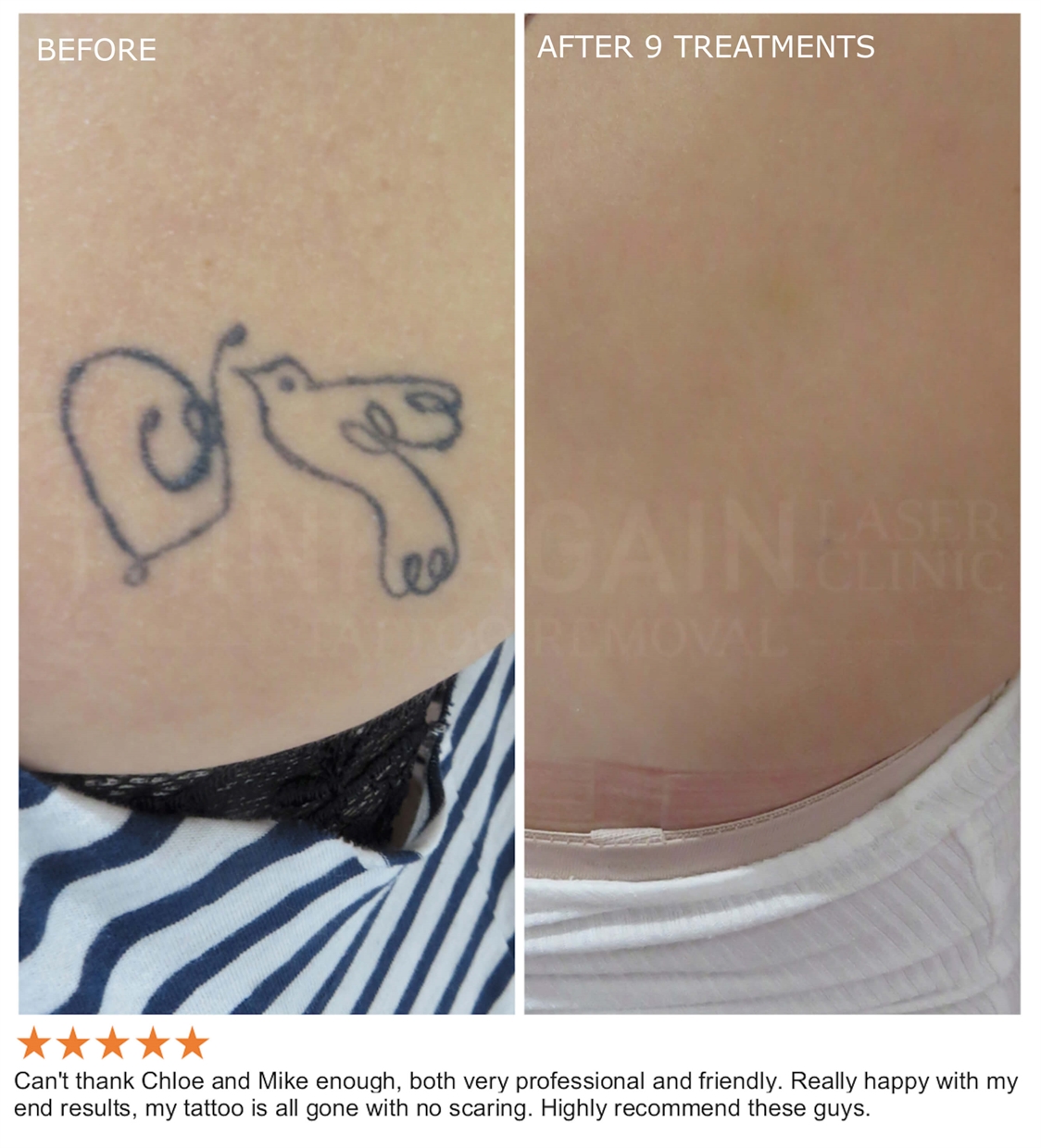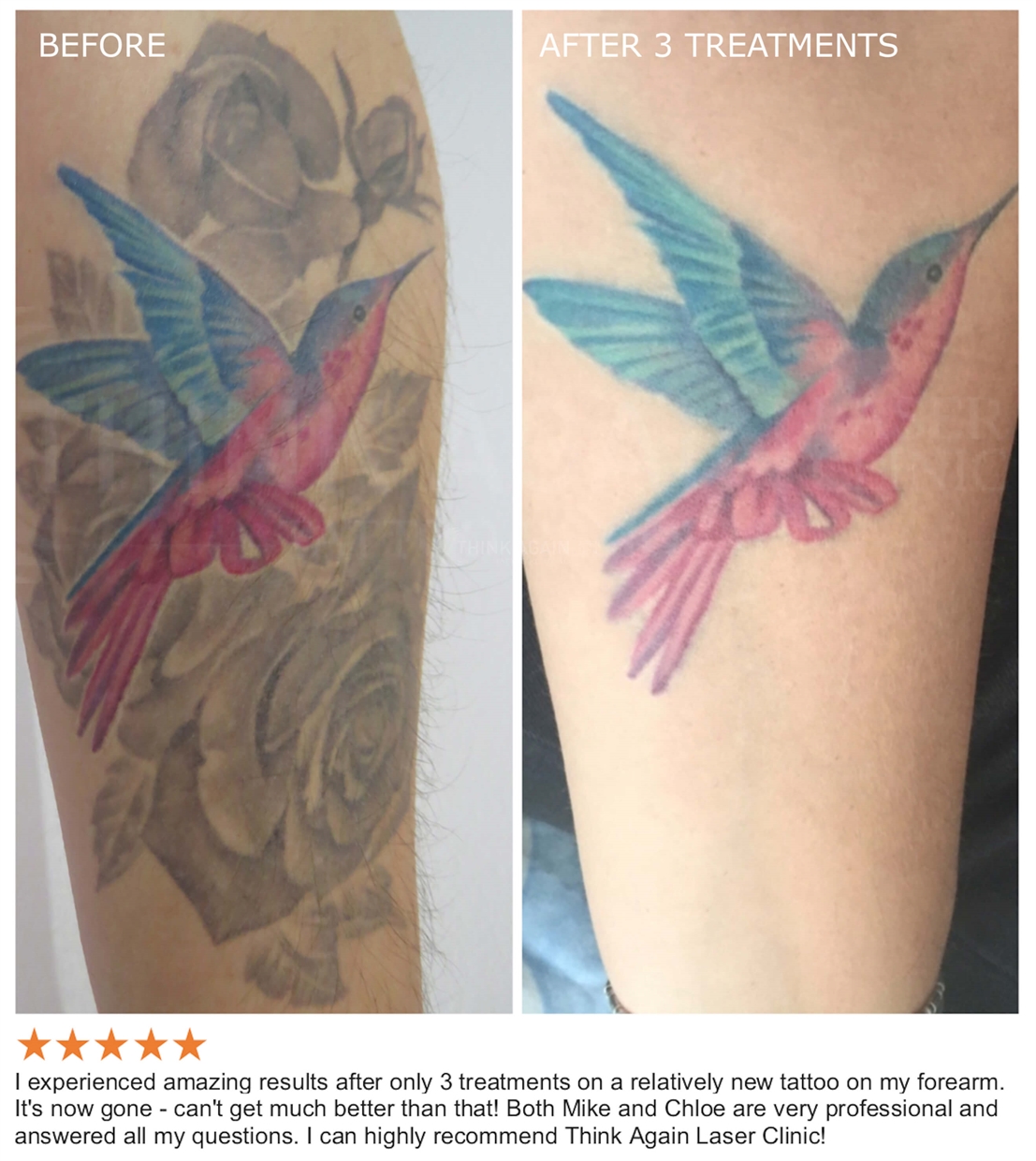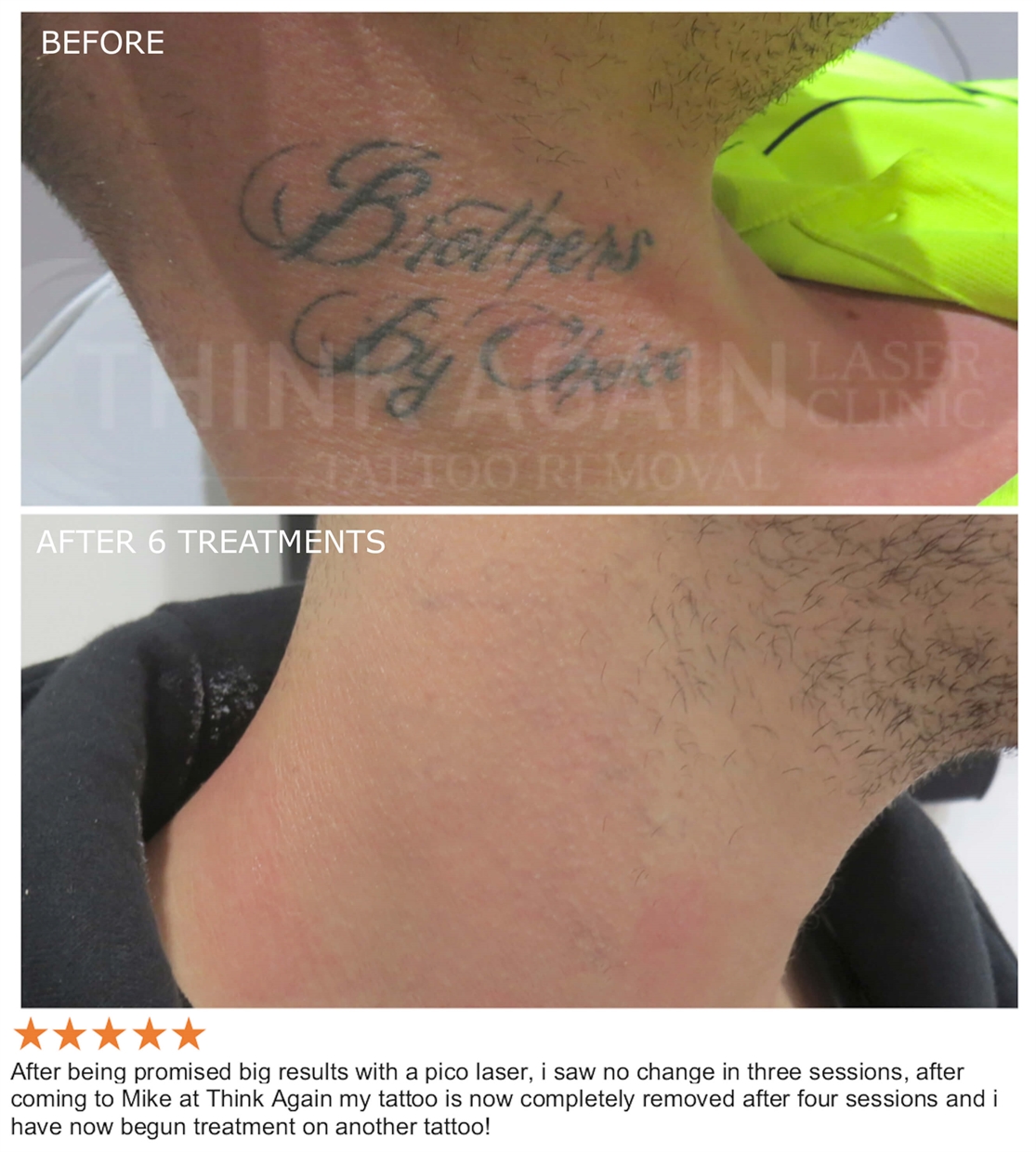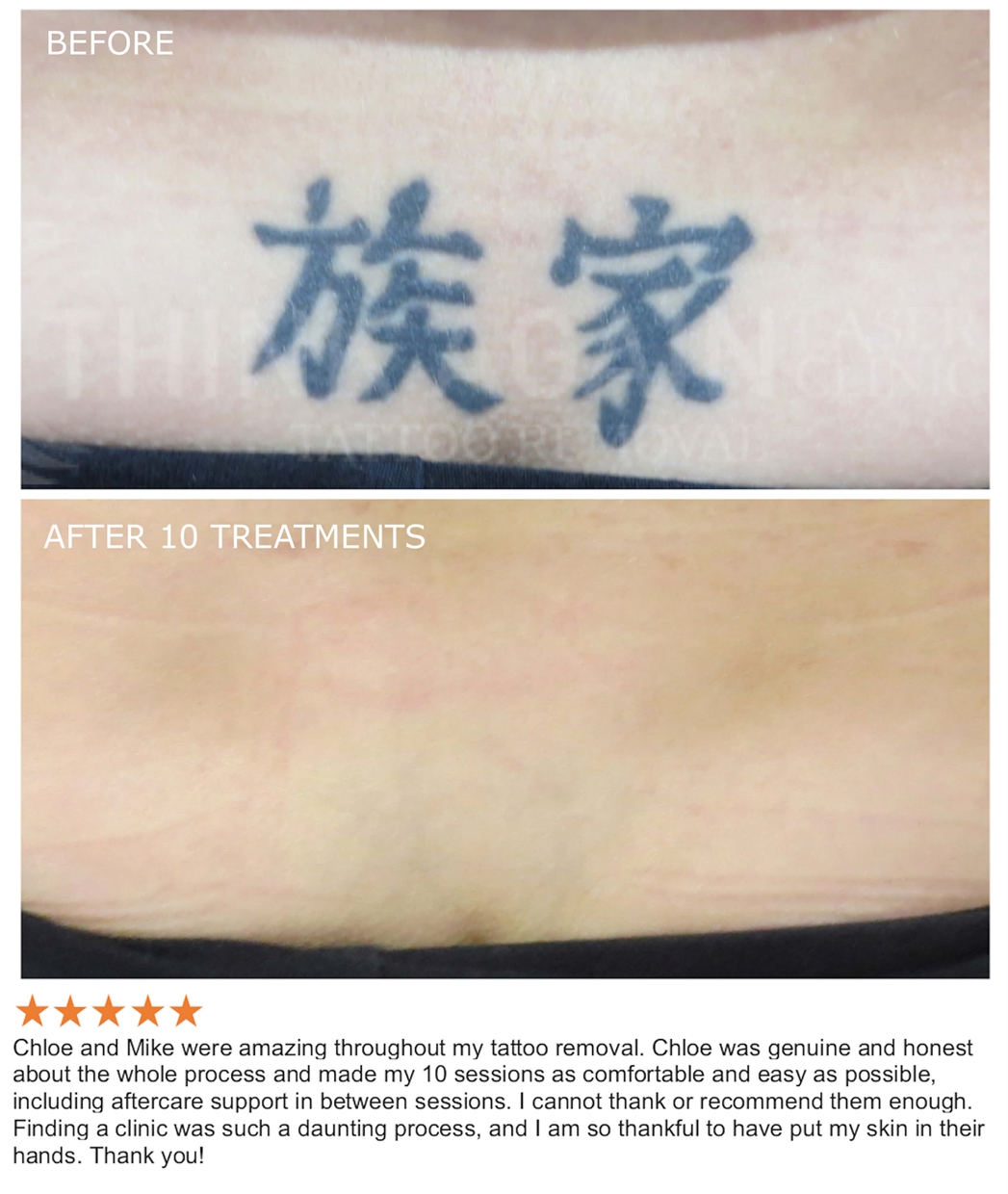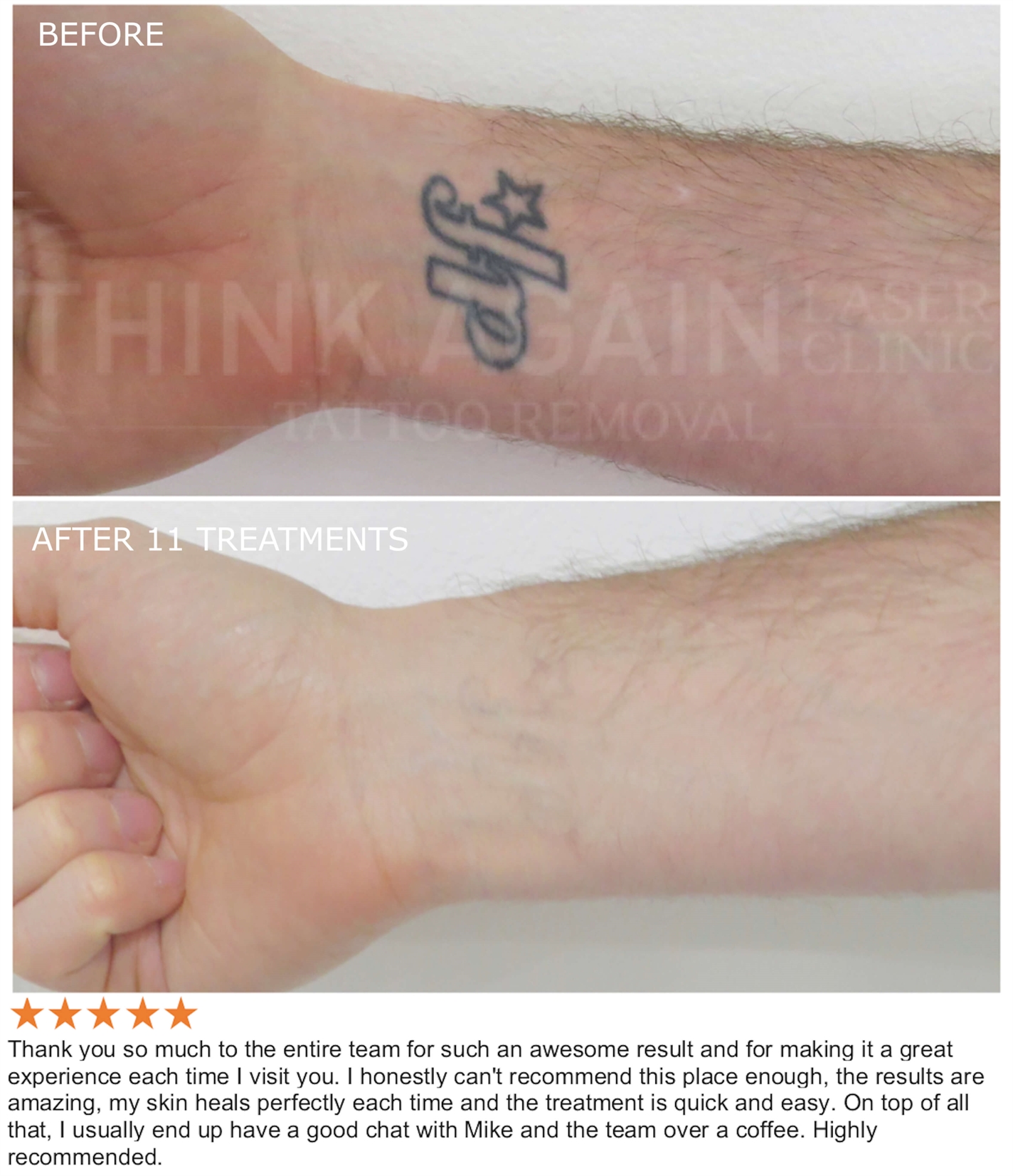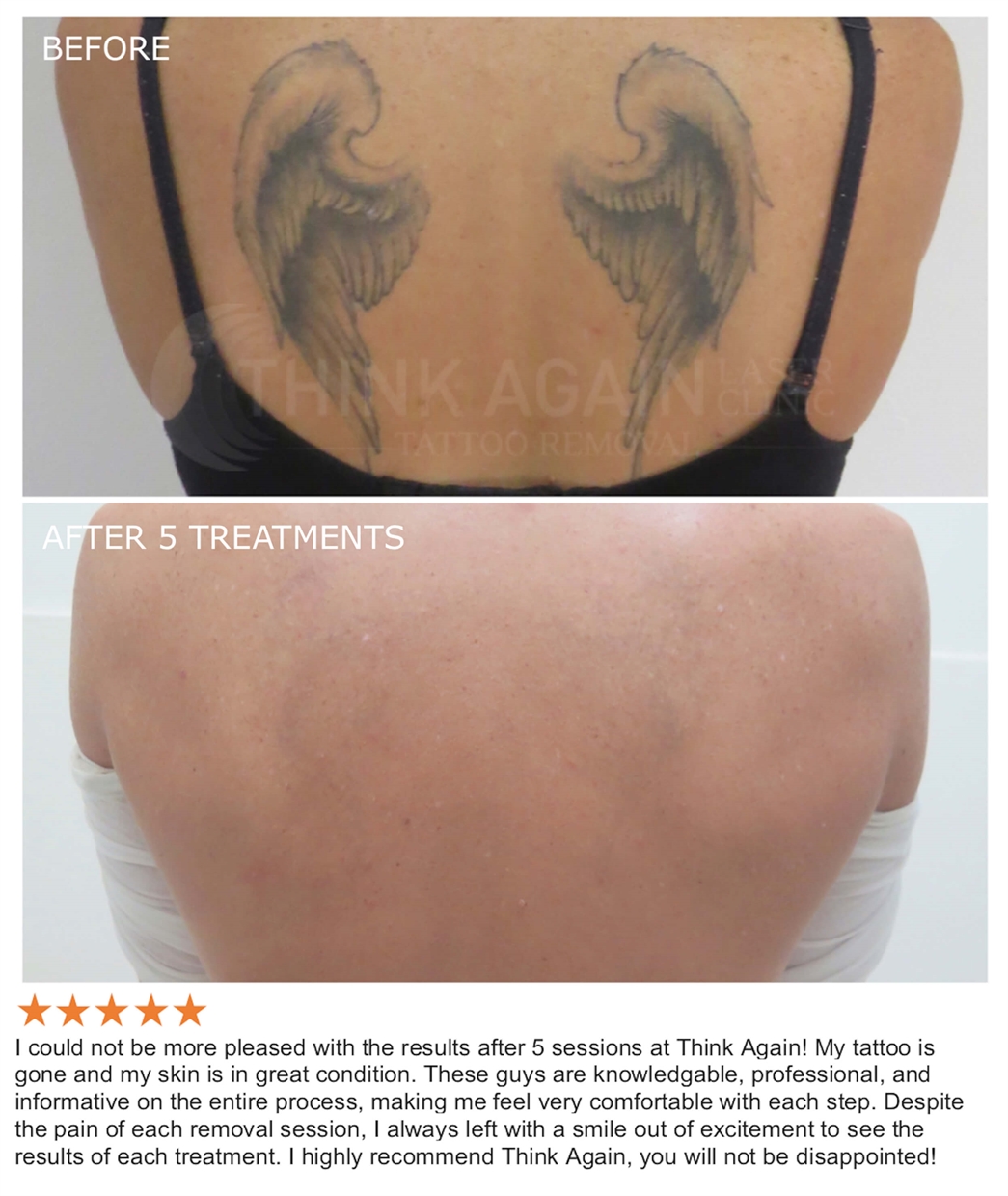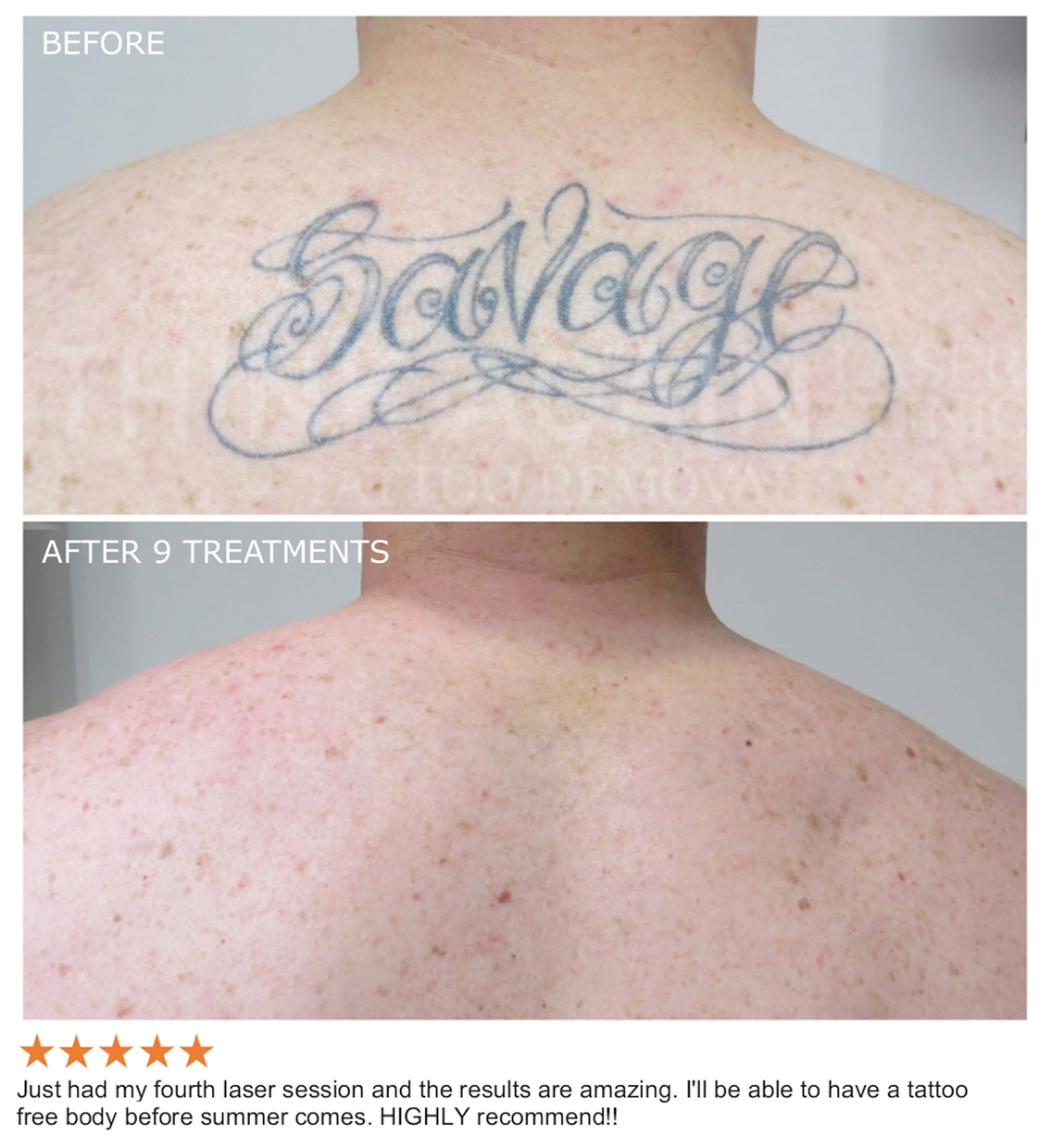 Reach out and an application form will be sent to you in reply. We hold a 'no judgement' policy and assure you that both your privacy and anonymity will be upheld in line with our policies. We truly want to help you finalize these changes, and encourage you to take the steps to finalize a better version of you!