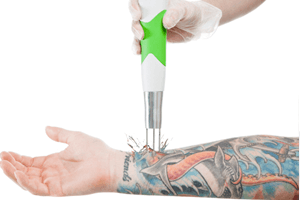 Begin your tattoo removal treatment now – Pay Later
No money? No worries. Your Money – Your Terms.
Sydney Think Again Laser Clinic is proud to be paving the way in the laser tattoo removal industry, using the most advanced technology yet making the procedure even more affordable for the general public! We have partnered with Australia's largest and most trusted debit company to ensure our clients have immediate access to begin treatments sooner without having the initial funds saved.
What are we offering?
INTEREST FREE payments
No minimum spend
Customised direct debit plan tailored to YOU!
Flexible amount and payment frequency
A method of extended payment which will not effect your credit rating
You choose the $$ amount to suit your budget
Direct Debit or Credit Card debit
Payments can be arranged weekly, fortnightly and monthly
Payments starting as little as $20 per week
Who are we offering this to?
Everyone! With prices starting as little as $90 per treatment, even the smallest of costs can benefit from our "treat now, pay later" system! At Think Again we understand the need of our clients to begin treatments asap! Whether it is to ensure removal for a special event or purely to remove a memory that was!
Getting married? The lead up to that big day is an exciting, but costly time! Don't let the stress of cash flow get in the way of beginning your transformation for the big day!
Large tattoo you would like removed? As pricing is determined by size, a larger tattoo can cost in excess of $300 per treatment. Without prior saving, the commitments of these treatments may prove difficult to stick with. Our newly offered payment plan will allow you to be initially treated without paying a thing! Pay what you can afford, at a frequency you choose…Interest Free!
Money tied up else where? No problem! The excessive cost of day-to-day living means most must stick to a very tight budget. We tailor the payments only to what you can afford- never any more.
When can you start?
Now! As of 1st June 2015, Think Again Laser Clinic are making this offer available to any individual who wishes use it.
At consultation we will determine the price for the tattoo you would like removed and will then customise a specific payment plan that suits you and your budget.
Contact Think Again Laser Clinic Sydney to book your laser tattoo removal consultation today!
At Think Again Laser Clinic, Tattoo Removal has never been more affordable – And for us that's the way it will stay.
Think Again Laser Clinic – Recreate the skin you're in
188-190 Victoria Road, Rozelle NSW 2039
0474 817 767