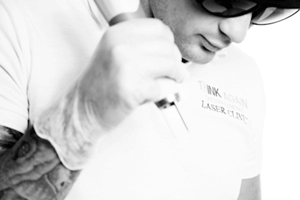 BIG NEWS! Next Generation Of Pico Tech Is About To Change Tattoo Removal
Think Again Laser Clinic
are ready to share a nation exclusive, with you!
---
Award Winning 2017 Technology – Faster Results – Cheaper Prices
---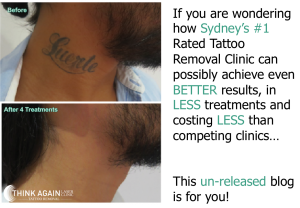 It has been more than 5 years since we have seen a significant improvement in the Tattoo Removal industry, but that's all about to change!
With the arrival of Pico technology around 5 years ago, the service providers and consumers were promised that these devices would revolutionise the industry, with faster results and fewer number of required treatments.
Think Again Laser Clinic is not committed to a single device, manufacturer or system of operation, but rather as company policy we are committed to using the most advanced and proven technology.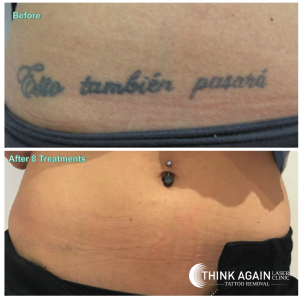 Since opening our doors, we have not seen a single device able to improve on our already market leading results we are achieving day in and day out. But that's all about to change.
Systems like PicoSure or any other of the available Pico devices have shown zero improvement in performance with no notable before and afters to show.
The only thing that has changed is that the consumer has been paying almost DOUBLE at clinics using these inefficient (and now obsolete) systems, with ZERO evidence of improvement in their number of sessions required. This is all about to change.
This will be one of our longest blogs ever, but if you, your friends, or anyone you know has, is, or is going to be treated for Tattoo Removal it will be the best 10 minutes you will spend. In this blog you will see the science behind why the Dicovery Pico is about to turn this industry on its head, and make every other tattoo removal laser obsolete.
When the PicoSure laser hit the market, our CEO and founder Mike Anderson knew straight away that the device simply did not possess the power necessary to penetrate deep enough into the skin and target the particles of the tattoo with its Pico wavelengths of light.
It operates using a single wavelength, meaning it requires a Dye handpiece to 'mimic' the wavelengths to target colors of red, yellow and orange. This further reduced the insufficient power by around half. Essentially this laser can barely interrupt the surface of your tattoo, and is certainly not an effective way to approach tattoo removal.
Pico technology uses an extremely short burst of energy, and there are many peer reviewed journal entries proving that the energy DOES in fact break particles down into smaller pieces than Nano Second technology. This fact has never been argued. BUT the problem with all these studies is that they did not conduct the analysis at realistic depths in the skin.
When applied in devices such as the PicoSure,  and other low power, first generation Pico devices, they simply were not able to get the burst of Pico energy to the deeper particles of ink. Essentially, they can only remove those tattoos that are shallow in the skin. Existing technology like the Quanta Q plus C is still a more effective way to treat your tattoo.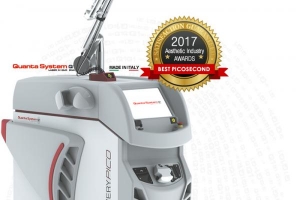 QUANTA DISCOVERY PICO SERIES
---
The manufacturer of our current market leading system Quanta Q-Plus C has FINALLY equipped their NEW Pico system the Quanta Discovery Pico with 3 true wavelengths, to specifically target EVERY colour of tattoo ink (other available pico devices are still using Dye hand pieces to mimic true wavelengths).
 
This device was recently awarded 'The best Multi Used technology IN THE WORLD'
At the 2017 Aesthetic Industry Awards 
 


#1
The
Quanta Discovery Pico
has TWICE the
available power
as the PicoWay (1.8GW compared to 0.89 GW). This means that we can FINALLY get enough power down into the deeper layers of your tattoo to apply a true wave of Pico energy.
#2 
The Discovery Pico has not only
Pico technology
but ALSO combined
nano capability
, at the early stages of your removal it is VERY important that your clinician can alternate and select both Nano and Pico lasers.
#3 
The energy loss (energy loss is the amount of energy that is lost to the system before it gets to the point that matters, the skin) in the
Discovery Pico is ten, yes TEN times lower than the PicoWay
.
#4 
The
Discovery Pico
ALSO now has a
fractional
option to increase comfort,
reduce post treatment inflammation
, and improve overall results! The first Pico device to offer this.
#5
The Discovery Pico has the
worlds most powerful and fastest Ruby
laser included to target your lighter
blues
and
greens
.
#6
We now have the option of using an
8 MM hand-piece
, the penetration of the lasers light is directly linked to the width in MM of the hand-piece in use, meaning the Discovery Pico is now going to apply the Pico technology (in powers never before been able to) to the
deeper area of ink.
Something never done before.

You could be forgiven for expecting that our prices will rise, in line with our competitors using now obsolete systems.WRONG! Our pricing WILL NOT be changed during the implementation of the world's most effective Tattoo Removal system.
NEW AWARD WINNING SYSTEM – FIRST TO MARKET –
TREATMENT PRICES REMAIN THE SAME
Currently a Sydney 'competitor' using the PicoWay, is charging $300 per session for a credit card size tattoo. We currently charge HALF of this. Yes half. Using our previous technology.
Our team at Think Again Laser Clinic are turning this industry on its head. We now offer the world's most effective laser technology. A fact which can no longer be disputed.
We also offer the countries lowest pricing. When you consider that the competition are now charging double the price for an ineffective and outdated technology, you would be crazy to continue on being treated by a system that is unable to offer results anywhere near that of the Discovery Pico!
If you are currently being treated with ANY other laser, now is the time to start asking questions!
We welcome you to come in for a 100% FREE consultation to hear more about how we can not only drastically improve your results, but how we are now also the CHEAPEST provider of Pico technology in the country.
Moving forward we will be the only Tattoo Removal clinic in AUSTRALIA  offering this second generation Pico technology. Our team believes that you can expect a 30-40% reduction in number of treatments compared to other Pico devices, at half the price.
We now GUARANTEE our results over every one of the following lasers, we do this by reading the science and reality behind each device.
1. Quanta Q-Plus C & Q-Plus C EVO (yes it's time that the little sister of our system was retired, it doesn't make much sense to use the same device in a nano any longer!)
2.Cynosure PicoSure (anyone being treated by this device is being ripped off, it doesn't work, simple)
3.ANY other pico or nano laser on the market
We guarantee that we are about to introduce to Australia THE WORLDS MOST EFFECTIVE laser for tattoo removal. Anyone arguing this fact is either ignorant, as the science behind the lasers cannot be disputed.This is the biggest development in Tattoo Removal in recent history, and is the first time that this energy is available for use on ALL of your tattoo layers.
Our team is more than excited in anticipation for our very near delivery, and with our pricing remaining the BEST in the industry; it is now becoming very hard to justify going anywhere else for your Tattoo Removal journey.
Tattoo Removal has now evolved and results have never been more successful.  We welcome you to come on-board and be the first to experience the performance of the next generation in Pico Technology.
Call Sydney's #1 rated Tattoo Removal clinic today to schedule your appointment no obligation, free consultation.
Lets get this show on the road!
Think Again Laser Clinic
Sydney Laser Tattoo Removal Clinic
2/188-190 Victoria Road, Rozelle NSW 2112
info@thinkagainlaserclinic.com.au