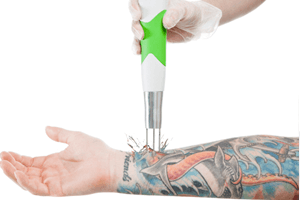 How does laser tattoo removal work?
Are you wondering how laser tattoo removal really works? What factors contribute to tattoo removal? We made a short video to explain just that!
The most important factors that will ensure you receive the best results:
1. Experienced tattoo removal laser specialist – At Think Again, it's all we do. Each specialist has conducted over 1000 treatments (can't get better than that!)
2. Technique – Over 3 years we have established ours which is unique in ensuring safe, effective and fast results
3. Reputation – Our Google and Facebook reviews are important in validating the work we do and the results we achieve
4. Results- Before and after photos will represent what each clinic is capable of achieving. Make sure they aren't showing you manufacturer photos, only photos they have achieved in their clinic. Even a good laser in the hands of an inexperienced operator will not guarantee results. Check our ours here: THINK AGAIN Before and After
5. Technology – We have no commitment to any laser manufacturer, only a commitment with each client that we will always use the most effective and up-to-date system to guarantee the best results.
Think Again Laser Clinic Sydney
Sydney Tattoo Removal Specialist
2/190 Victoria Road, Rozelle NSW 2039
info@thinkagainlaserclinic.com.au
www.thinkagainlaserclinic.com.au