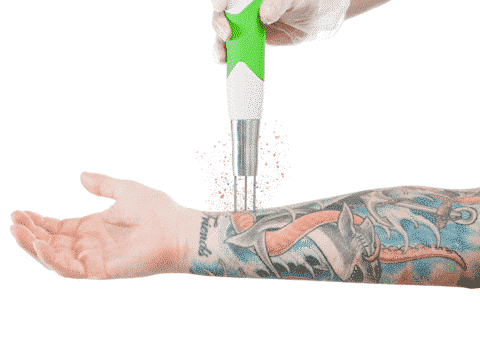 How many sessions of laser tattoo removal will I need?
At Think Again Laser Clinic Sydney we pride ourselves in providing realistic expectations for our clients.  We utilise the most advanced technology in the world for laser tattoo removal and our Italian made Quanta Discovery Pico Plus. Laser plays an essential part in the removal process. Without high quality technology such as the Quanta, not only will the process take far longer, it also poses the risk of damaging the skin.  If an inferior machine is used it is also likely visible ink will be left in the deeper layers of the dermis and due to lack of available power is then unable to be removed.
Always make your #1 question- What is the brand name of the laser you use? Make sure you do your research!
Unfortunately there are many machines on the market and that are being used all around the world that simply do not have the power capacity or necessary functioning to remove an entire tattoo. Replica lasers are being sold out of Korea and China for as little as $2000AUD while a good quality machine will cost in excess of $130k. These cheaper lasers may scrape the surface layer of the tattoo ink but will not have the energy to pass deeper through the skin to attract the remaining tattoo pigment.
The technology that is being used is certainly the most important factor to consider as to how quickly the tattoo can be removed.
Other factors that are essential in determining a time frame for removal include:
Black or coloured ink – Colour will generally require more treatments than black
Location on the body – The closer the tattoo is to your heart, the more blood flow, the quicker it will be to remove. Hands, lower legs and feet do require more treatments
Professional or Amateur tattoo
Quality, depth and amount of ink used
Age – The older the tattoo (5years + ) will require less treatments than newer tattoos
Multiple tattoo cover ups
Skin Tone- Clients with lighter skin will respond more efficiently than darker skin
Immune Response – Depends on how quickly or how slowly your body passes the shattered ink after each treatment
Scar Tissue- Clients who have been treated elsewhere and have been left with irreversible scar tissue over their tattoo which then acts as a barrier to the ink pigment
Post Treatment Care- Proper post treatment care will ensure the healing process is as efficient as it can be
A handful of our clients have come to us after being treated elsewhere and are upset that their expectations have not been met. Unfortunately many clients have a strict time frame they need the tattoo removed in, and have been let down by incapable clinicians who have not taken the above factors into consideration.
We have found quite a few places guaranteeing complete removal in 5 or 6 treatments or the remaining will be free. With reference to the above factors, no two tattoos will have the same outcome, so you have to ask yourself how they could make this guarantee with so many contributing factors?
At Think Again Laser Clinic Sydney we provide our clients with clear expectations for their tattoo removal journey. Each and every tattoo will have an entirely different outcome and time line for removal, so at consultation we ensure the process is completely transparent.
Contact us to schedule your free consultation and begin your journey to 'Recreate the skin you're in'.
Think Again Laser Clinic – Tattoo Removal Sydney
info@thinkagainlaserclinic.com.au
1300 166 465