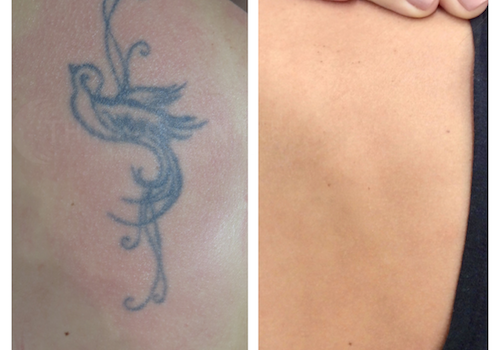 Sorry Girls (and guys)…. Size doesn't matter
Sorry Girls (and guys)…. For Laser Tattoo Removal, size doesn't matter.
This one comes up a lot and is a common misconception. The size of your tattoo unfortunately wont make it any faster to remove.
It is not uncommon for people to present to the clinic with a single dot if ink with the thought process that since the tattoo is tiny, it will need a quick zap and you are on your way. Unfortunately that's not how it works.
Why?
Because we work in layers. Provided your tattoo removal expert is able to treat your whole arm sleeve (for example) once every 6-8 weeks, we can remove this tattoo just as fast as the dot.
You see not all the ink can be treated in one sitting, due to the depth of penetration, density of ink and many other factors. **Head here to see our blog on the factors affecting your tattoo removal** are all at play. It is physically impossible (and unsafe to try) to penetrate through all of the ink in a tattoo in one session.
Now for the good news!
This means very large tattoos can be removed just as quick as relatively small ones. We only ever treat an area once during the prescribed 6-8 weeks. Provided we can cover the area once in that time, we can process large tattoos just as fast as the small intricate ones that are more common to come through the clinic.
Some clients jump right in and treat 10-12 tattoos all at the same time, others choose to chip away over a number of years, but they all can be assured, by partnering with Australia's leading Laser Tattoo Removal Specialists, that they will be happy with the outcome.
1300 166 465 ( 1300 1 NO INK )
Hours: Tuesday – Friday 10am-6pm, Saturday 9am-4pm
Closed Sunday & Monday
Hours: Thursday & Friday 10am – 6pm, Saturday 11am – 4pm
Closed Sunday – Wednesday
https://thinkagainlaserclinic.com.au/tattoo-removal-results/