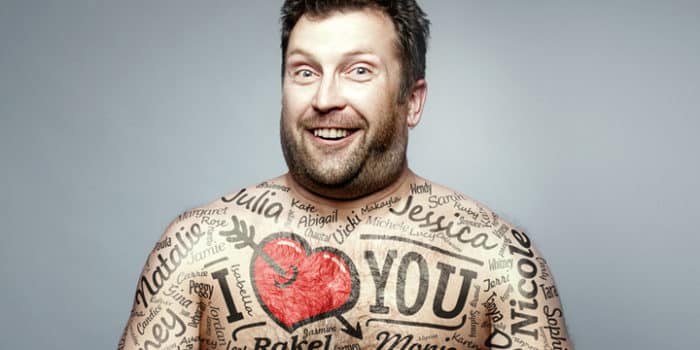 Tatts on, tatts off: laser tattoo removal
More and more people are beginning to re-think their ink. Luckily, laser tattoo removal means tattoos no longer have to be forever.
Whether it's an ex-partners name, incorrect spelling or simply a change of heart, myriad reasons exist for wanting a tattoo gone. In fact, Chloe Karr, laser specialist and co-owner of Think Again Laser Clinic in New South Wales, states that in many cases, people simply 'grow up'.
"The ink no longer reflects them as an individual anymore … What may have represented us in our teens may no longer accurately represent us in our 30s and 40s," she says.
As tattoos become increasingly fashionable, more people than ever are getting inked. Indeed, data published in the Annals of Epidemiology in 2012 showed the prevalence of tattoos in Australia rose by five per cent between 1998 and 2005.
However, fashions constantly change, and tattoos do not. This may explain why more than a third of all Australians with tattoos regret getting them.
What's more, almost 25 per cent of Australian under-30s have tattoos, and a quarter of this group are seeking removal.
These statistics from Choice, an Australian consumer advocacy group, demonstrate why the booming tattoo removal business is unlikely to slow down any time soon. There's certainly no shortage of clients.
No rules, big consequences
Tattoo removal is a lucrative business – and this is where the trouble begins, according to Ms Karr, who explains the industry lacks regulation.
"Laser technology is a very broad term; there are cheap lasers on the market that many supposedly reputable clinics are using which pose a very large chance of permanent scarring."
Indeed, back in 2013, Dr Philip Bekhor, Director of the Laser Unit at Melbourne's Royal Children's Hospital, told the ABC: "It's [tattoo removal] almost 100 per cent unregulated. There needs to be some regulation. If people are having complications or scars, it needs to be reported."
Ms Karr has heard patients' stories, some of which she describes as "horrifying".
"Even at the hands of some 'doctors' [Ms Karr's emphasis] it sounded like the industry had huge room for improvement."
Removal tools: the good and the bad
Many problems in the tattoo removal industry stem from the use of inappropriate equipment. Q-switched lasers are considered the gold standard in tattoo removal, yet some removalists choose to use other tools, such as intense pulsed light (IPL), typically used for hair removal.
IPL is slower and less intense than Q-Switched lasers, meaning it's unable to destroy the ink particles, according to research published in Dermatology in 2008. Instead, it heats particles up to the point where the surrounding tissue is damaged, leading to scarring, based on the study.
The researchers examined 12 individuals undergoing tattoo removal with technologies other than Q-switched. All the subjects experienced adverse side-effects, including blistering, bleeding, scarring and altered skin pigments.
The study concluded that IPL was "clearly not suitable" for tattoo removal.
Despite this, and many similar findings demonstrating the effectiveness of Q-switched lasers, and highlighting the downfalls of devices which emit pulses in the millisecond domain, such as IPL, these machines are still commonly used to remove tattoos.
Indeed, some doctors, including plastic surgeons Drs Mark Kohout and Laith Barnouti from Australia Plastic Surgery, state that "IPL is an especially effective form of laser surgery [for tattoo removal]".
We re-contacted them to discuss the controversy surrounding IPL and tattoo removal, but they were unavailable for comment.
The difference in cost may explain why some removalists would choose a potentially inappropriate machine. IPL systems market at around $15,000, whereas the recommended Q-switched models can cost in excess of $120,000, according to Dr Anne Malatt, an eye surgeon and laser tattoo removal specialist at Lightwaves Laser Tattoo Removal in New South Wales.
Q-switched knock-offs are also available online for $20,000 to $30,000, however, Ms Karr states these cheap copies often cause scarring.
How's laser meant to work?
"Laser tattoo removal involves shining a very concentrated beam of light energy into the skin which is attracted to the tattoo pigment. The ink absorbs the light which shatters it into millions of small pieces … which are then passed out through the excretory system," Ms Karr explains.
Different laser wavelengths are absorbed by certain colours of ink, so unless a machine contains all the required wavelengths, many tattoos cannot be fully removed, she adds.
Each treatment can take as little as a few minutes, or closer to an hour for larger pieces, and are recommended to occur six weeks apart.  The number of sessions required varies according to tattoo location, size and colour.
Due to this process, complete removal can take an entire year, and in some cases, even longer.
Laser removal isn't pain free. Skin can often feel "sunburnt" post-treatment, so adequate skin care is critical, states Dr Malatt.
On the bright side
Despite some negative stories, many positive tattoo removal experiences exist.
For 57-year-old Mary-Lou Myers, the removal of a tattoo on her left breast by Dr Malatt meant a "reconnection with her body". Removing the tattoo she got at 34 led her to feel happier and more connected to her breast, she said.
Meanwhile, tattoo removal helped one of Ms Karr's clients, Mr Chamoun, create space for new art. Four sessions of laser treatment have lightened his old 'sleeve' tattoo, so it can be replaced with a new design. He has nothing but praise for the removalists: "[They] gave me a second chance on what I want marked on my body for the rest of my life."
How to find a credible tattoo removalist
So, how can those seeking tattoo removal ensure they leave with an ink-free body, and minimal risk of problems, such as scarring?
Doing your homework is key, according to Ms Karr. She recommends:
"Research, research, research! Choose somewhere that specialises only in tattoo removal.
"Check their [the tattoo removal clinic's] before and after photos.
 "Check their [the tattoo removalist's] qualifications. If there is no evidence of training, there's a good chance there was no training.
"Check their reviews. A reputable clinic will have a range of reviews on various platforms such as Google and Facebook. If they don't have any customer reviews, you can't be sure they aren't pleasing their clients or returning the results they promise.
"[Considering that] price isn't everything. If the price you have been quoted seems too good to be true, it probably is. If a business is using a cheaper laser system they can afford to make their prices much lower. Be aware that these laser systems will not be able to completely remove a tattoo and you run the risk of permanent scarring or tissue damage.
"Go[ing] with your gut. Laser tattoo removal is very safe when conducted properly. If the clinic isn't proud of its technology or training, or simply doesn't feel right, then leave and do some more research."
Be mindful that all laser treatment, even if conducted by qualified removalists using correct technology, comes with risks. Contact an appropriate health professional for advice.