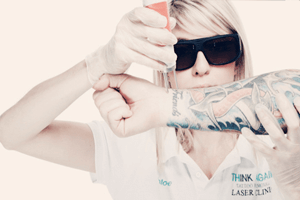 The Importance Of Before And After Photos
The foolproof way to successful tattoo removal lies behind the before and after photo. With so many clinics offering laser tattoo removal and a variety of non-laser removal offerings using solutions, creams or extraction it is crucial to request and review multiple photos prior to treatment.
A before and after photo plainly put, will provide hard evidence that a tattoo removal procedure will work and the person providing the service can be trusted to achieve that for you.
There are two types of before and after photos:
Manufacturer photo– This photo will show that the laser system is capable of removing a tattoo (if in the hands of an experienced operator).  However, we have seen clinics using medical grade laser systems yet still cause irreparable damage to a clients tattoo due to lack of experience. These photos do not represent the clinic.
Clinic Photo – This is the most important photo that will provide the hard evidence. It will show that the specialist or clinician has the experience, technique and equipment to achieve the results.
Our clinic photos:
There are unfortunately many Sydney clinics who only provide examples of manufacturer photos on their website. These photos are not a realistic expectation of what the clinic can achieve.
If you have only been shown these photos, we advise that you do not go ahead with treatment until you are shown photos that the clinic (and the specialist you will be treated by) has achieved themselves.
See our previous blog on The Truth Behind Before and After Photos, to see if you recognise any manufacturer photos from a clinics website.
Before and After photos are the only way you should judge a Sydney tattoo removal clinic. If the photos you see are not of a complete removal, or only show manufacturer photos, you have to ask yourself why?
Reasons clinics may not use their own photos or only use photos of incomplete removals:
They are a new business (tattoo removal results will take 12-24months to achieve)
Their laser system is not effective or suitable for tattoo removal
They do not have the experience or technique to operate the laser and achieve the results
At Think Again Laser Clinic Sydney our entire before and after gallery is made up ONLY of photos our tattoo removal specialists have achieved in our clinic.
At consultation we also offer each client the chance to look through our whole portfolio of photos to find a tattoo comparable to theirs. This is important to show each client the outcome of different tattoos, which will ensure a realistic outcome for their tattoo removal.
Have you been offered free tattoo removal?
Chances are you are being used as a dummy for a newly established clinic to take photos of. These sessions will commit you to their clinic and therefore allow before and after photos to be taken for their gallery. The ONLY reason a clinic would give away a treatment for free is because they need the single most important element for a tattoo removal clinic- the before and after photo.
So why should you be concerned? A new clinic may have a brand new laser system, the specialists may be educated in skin science but what they do not have is – EXPERIENCE. An inexperienced operator will not know how to gain the quickest results in the safest way possible and may also cause the skin damage.
Photos from clients who have been treated at other clinics where the laser was inferior or the laser clinician was inexperienced
Have you only been shown manufacturer photos?
Ensure you request photos achieved in the clinic, but specifically by the laser specialist who will be performing your treatments.
Unfortunately there is no quick fix for tattoo removal.
A disturbing article in the media recently shows a young girl who used a Rejuvi technique in the hopes of a quick and cheap tattoo removal. This method left her chest with horrific scarring and permanent damage. Before and after photos are CRUCIAL in the tattoo removal industry.
There is absolutely no other method of tattoo removal other than laser that can safely and effectively remove a tattoo. If you are looking for your tattoo to be removed without scarring or permanent damage, laser is the only proven method with the before and after's to prove it.
If a clinic is proud of the results they can achieve, these should be displayed on their website. If not, ensure you request multiple examples once you are in the clinic.

Think Again Laser Clinic : RESULTS – REPUTATION – REALITY
Call 1300 1 NO INK (1300 166 465) to speak with a tattoo removal specialist
2/188-190 Victoria Road, Rozelle 2039
View OUR Affordable Tattoo Removal Prices : HERE