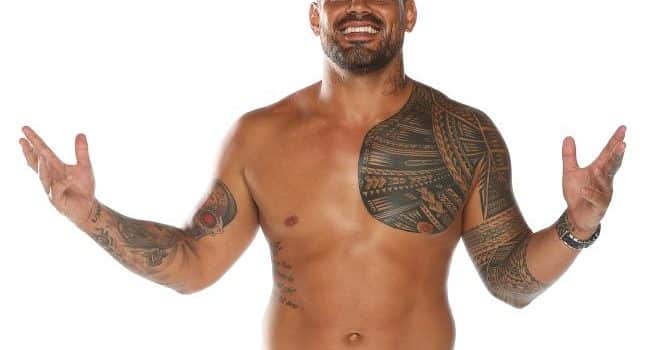 Reni Maitua regrets tattoos as getting a job proves hard for former NRL player
FORMER NRL star Reni Maitua has warned tattooed league players face a future of unemployment after revealing he cannot get a fulltime job ­because of his inkings.
Maitua predicts some of the biggest names in rugby league could end up on welfare due to an NRL tattoo epidemic that has seen players such as Todd Carney, Adam Reynolds and Josh Dugan cover themselves from head to toe in body art.
Seven of NSW's starting State of Origin stars, including Trent Hodkinson, took to the field last year sporting full-sleeve tattoos.
"Getting tattoos is definitely a craze in rugby league," ­Maitua said.
"And I just want people to think about the tattoos they are getting. Your rugby league career is so short. You think it will last forever, but it doesn't.
"These guys need to think about what they could be limiting themselves to when they get their tattoos."
Maitua revealed a series of spur-of-the-moment tattoos had cost him several jobs since his 12-year rugby league career ended last year.
The NRL has taken the ­unprecedented step of publicly urging players to strongly ­consider whether or not to get tattoos.
"Ultimately, getting a tattoo is up to the player and their judgment," NRL's welfare manager Paul Heptonstall said.
"In Reni's case, what may have seemed like a popular decision at the time is one that he has reflected on and is changing. So we would also urge every player to make sure they are certain before they make such a long-term decision."
Mr Heptonstall said as part of the NRL's wellbeing and education courses players from under 16s through to the elite level were "reminded of the importance of their personal brand in the long-term".
Maitua, a former Bulldogs, Sharks, Eels and Origin star, has tattoos on his torso, arms, wrists and fingers.
He also has a neck tattoo that he said made him feel like "a thug".
"I can't get work in any sort of office," Maitua said this week.
"And it is more than that. People in general make a presumption about what sort of person you are because of the tattoos.
"I don't have anything against tattoos, but they have created dramas for me. I find it embarrassing when people look at my neck tattoo.
"I think they are thinking that I am a thug and that is not me as a person.
"I don't want people presuming I am a criminal."
Receiving his first tattoo in Samoa when he was just 14, Maitua is now in the process of having several ­removed by laser. It will take 12 months to get rid of the neck tattoo he ­received in two hours.
"There is a six-week period between each session where you need to heal," Maitua said.
"There is a healing process between each session.
"I have already had three sessions and I will need about six more."
Maitua said he never considered the consequences of being tattooed and revealed he has spoken to the NRL, such is his concern for the current crop of players.
"There was a period during my career where I didn't really think about too much other than footy," Maitua said.
It was during that period that I got a neck tattoo. I was in Bali on a break. I just made a snap decision to get a tattoo on my neck. It was completely spur of the moment.
"I was surfing and ended up walking into a shop. It was literally I walked in and said 'let's do it'.
"I didn't process what I had done until I got home and Dad saw it. I can still remember the look on his face. I am paying for that mistake now."
Maitua is hoping his story will inspire current and future NRL players to "think before they ink".
"It became fashionable," Maitua said. "Everyone started getting them and it caught on.
"My generation is paying for it now."